Many owners neglect roof maintenance, which may lead to serious issues down the road. If damage isn't addressed quickly and the roof deteriorates, it will lead to costly repairs, not just for your roof but also for the structure itself. Roofs can be severely damaged and worsened by harsh weather, eventually requiring frequent inspection and maintenance. The worst-case situation is that your company will have to invest in a whole new commercial roofing project, which will take time and resources.
Why do you need Dako for your Flat roof repairs?
We arrive at your place quickly
Our advice is simple, truthful, and often thoroughly explained
We have everything we need to complete every task correctly the first time, every time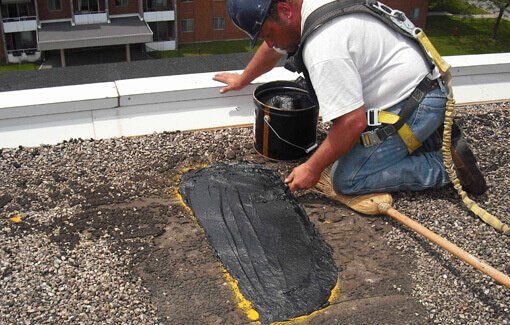 Our commercial roofers in New Zealand have the skills and know-how to repair any flat roof repair, giving you peace of mind that your commercial property is safe and weatherproof. They'll come to your place to analyse the condition and recommend a cost-effective flat roof approach that's tailored to your specific requirements.
We only have commercial roofing solutions that are rugged, long-lasting, and cost-effective. We only use the best quality flat roofing systems and components to ensure that your commercial property is protected now and in the future.
Is Your Flat Roof Leaking?
A leaking flat roof is no laughing matter, particularly if you own a commercial or industrial structure. If you have a leak in your flat roof and don't know who to call, give us a call. We, at Dako pride ourselves on providing excellent customer support. Our team will come to your rescue as soon as possible. How we treat our customers and conduct business distinguishes us from other commercial roofing companies.
We keep our customer's roofs in good shape all year to extend the life of the roof structure and protect their investment.
Our flat roof experts are experts at delivering long-lasting outcomes while causing the least amount of disruption to the client's normal operations.
We're Flat Roof Repair Experts
We are the experts you want for your roof repair. Do not wait any further and behold your keyboards and call us. We will get you the solution you desperately look for after you contact us or fill out a form. You can wait for us to get back to you. We will get to you with a quote. You may wonder why our quote is more accommodating than the quotes by the other roofing companies? We fair our services adequately without sacrificing quality while building a great relationship with our clients.
You would be surprised that one of the real advantages of being a certified installer of new flat roofing materials is the knowledge you'll obtain in restoring the same material.
Unlike sloped roofs, flat roofs are more or less horizontal. Flat roofs are constructed with a slight gradient to help avoid pooling and allow proper drainage, while sloped roofs have inclines that naturally allow water to flow out of them. Dako has the skills, equipment, and experience to perform any kind of flat roof repair. Our flat roof repair service can tackle any system currently in operation.
Whether you have modified bitumen or a single-ply roof, we will evaluate it quickly and thoroughly. We will assess the problem and expertly execute our recommended repairs. That's what we, as the area's best flat roof repair service, can provide.
Common Issues With Flat Roofs
If you own a commercial building or your home has a flat roof, you're aware that it sometimes necessitates more maintenance than other forms of roofs.
Some common issues with flat roof are:
Accumulation of water
Another common issue with flat roofs is that stagnant pools of water are more likely to form. During a strong rainstorm, the flat roof is more likely to produce pooling water. If these pools of water are allowed to remain for an extended period, they can cause damage to the roofing materials and leaks.
Alligatoring
A condition called alligatoring is one of the surest indicators that the flat roof needs replacement. What happens is that the asphalt used to make the flat roof is old and elastic, creating a break and a blister that looks like an alligator's skin. These bubbles can burst into your house, making the water rush in.
Leaks
A flat roof, like any other, can grow cracks, but since it is flat, the water has nowhere to go but down. This indicates that moisture can seep into the roof and cause issues such as mould and fungi.
Frequently Asked Questions (FAQs)