Are you looking for solutions for industrial flat roofing? Well, we may have the answer to that. TPO is the way to go. Modern architecture produces high-performance and long-lasting solutions that deliver long-term functionality, profitability, and aesthetics. The exterior elements like rain, snow play a huge role in the building's degradation over time. Therefore you need a solid, watertight roof. The membrane you choose must live up to the expectations that are required.
TPO is a single-ply translucent roofing membrane made of thermoplastic polyolefin. It is made up of polypropylene and ethylene-propylene rubber that has been polymerised together to form TPO.
This synthetic roofing membrane is available in a variety of thicknesses and sizes. Customers will usually find thicknesses of 45 to 80 mils on the market. TPO is typically only available in three colours: white, green, and tan. If you want an energy-efficient, cool roof, white is an excellent choice because it essentially bounces off the sun's energy. TPO transitions from being stable to a semi-solid state for a short period. This occurs as it is subjected to proper heating treatments. The sheets or panels are overlapped and joined to form a solid surface as it changes state until it cools off.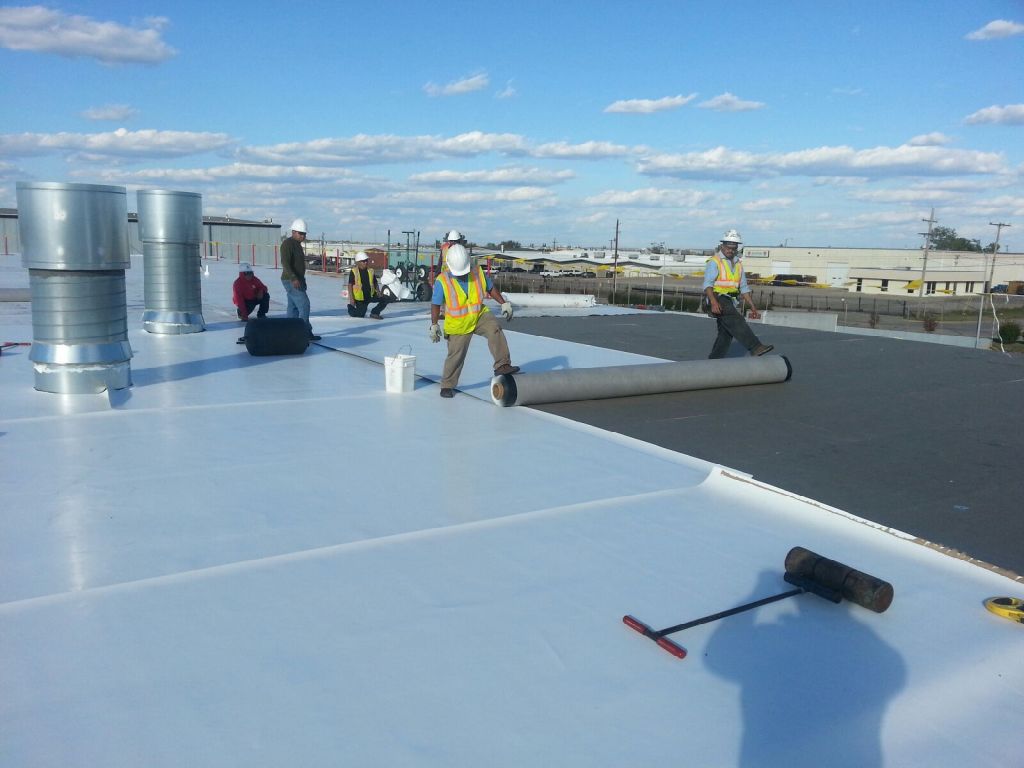 Viking Enviroclad TPO Waterproofing
Is your roof packed with an air conditioning unit or pipe entrances? These are the things most vulnerable to leakage if not well handled. Heat-weldable accessories from Viking Enviroclad have been built to ensure water tightness in such sensitive areas. These attachments range from heat-weldable internal and exterior corner flashings to self-sealing pourable pockets that provide a waterproof finish around penetration points.
For low-slope roofs, Viking Enviroclad has a complete watertight character.
Viking Enviroclad has a track record of success. It's been mounted on thousands of buildings and homes globally and locally, and it's proven to work.
Key Characteristics of Enviroclad:
Grey, White, Mansard Brown, Patina Green, Rock Brown, Medium Bronze, and Slate Grey are some of the colours available.

Thousands of installations in New Zealand have been completed solely by Viking Licensed Applicators.
Benefits of Viking Enviroclad - TPO Waterproofing Membrane
A Viking Enviroclad- TPO Waterproofing Membrane has several advantages. However, let us examine the challenges that develop as a result of not employing TPO.
Leakage Prone:
A variety of underlying issues causes leaks. Poor installation, inferior materials, and extreme weather conditions are only a few reasons leakage are frequent. However, many materials, such as rubber, are vulnerable to leaks. It loses its adhesive strength over time, especially at the sides and edges, resulting in unexpected leaks.
Leaky areas may also serve as a breeding ground for moulds and fungus. They are not only costly to handle, but they are also hazardous to one's welfare.
Repairs or replacements that are too expensive:
You already must've paid a significant sum for your roof as roof installations do not come cheap. However, if it isn't fully waterproof, you will have to pay more over time. Premature water damage necessitates expensive repairs or, in the worst-case scenario, replacement.
Damaged Structures:
Many times it is seen that a structure starts falling suddenly. However, that is not the case. The damage from water often goes unnoticed. In that time, water can crawl to other areas of the building or house as leaks worsen, as you would imagine. It can obstruct walls, ceilings, and windows, among other things. Water will undermine a property's integrity once it hits the foundation and the base. The fact that it can go unnoticed for months or years is worrying.
Ardex TPO Waterproofing
Ardex, too, is an excellent TPO waterproofing membrane, just like Viking Enviroclad. ARDEX is the safest option for a full building envelope system that includes waterproofing and roofing membranes. Ardex waterproofing technologies are specifically tailored to the needs of each application. ARDEX has various fast curing, energy-resistant membranes that can withstand the time and moisture test.
Nuralite TPO Waterproofing
Nuraply TPO is a lightweight, puncture-resistant membrane that is 1.5mm thick. It comes with a variety of TPO-approved components, resulting in a completely warranted framework.
Some advantages of Nuraply:
Forms lines that are straight and clean
Best weathering TPO
Suitable for collecting potable water.
BRANZ has given it a thumbs up.
Benefits of using Nuraply Everguard TPO
TPO systems incorporate the best design characteristics of thermoplastics (such as PVC) and elastomeric (such as EPDM) to ensure the best implementation and performance outcomes.
Characteristics of Nuraply Everguard TPO
The light reflective value (LVR) of this material is 0.72. Nuraply Everguard TPO lengths are available in long, large rolls measuring 30.5m x 3m.
Frequently Asked Questions (FAQs)

Thermoplastic Olefin, or TPO, is a thermoplastic polymer. It's a single-ply thin roofing membrane with a few distinguishing characteristics. It has a thickness ranging from 45 to 80 millimetres. TPO is dense enough to form a watertight seal along the outside of your roof. It is a top-of-the-art solution for commercial or industrial constructions because of its outstanding qualities.
We should leave TPO roof maintenance to be done by professionals, as do-it-yourself fixes will cause further harm. The roofing company inspects the roof membrane physically. The seams, flashes, and attachments are reviewed carefully for defects. The pro could use an infrared thermogram to scan for minor, naked-eye invisible penetrations. The roof inspector shall verify that sealants and joints, fasteners, and skylights are intact.
TPO roofs provide a plethora of appealing features. One of these distinguishing traits is roof lifespan. TPO roofs have a lifetime of twenty-two to thirty years when properly installed and maintained.