Torch applied membranes are a popular type of waterproofing membrane systems around the world. Based on the external environment, our suppliers can provide specific material which would withstand lower or higher temperatures, extra UV protection, etc.
In order to identify which type of waterproofing membrane system is suitable and required for your flat roof as per specific needs, contact us for free evaluation of works and work quotation.
Currently the following suppliers in New Zealand can provide the torch applied membranes:
Nuralite Torch on Membrane
Referred as the flat roof experts, the Naturalite provides a Nuraply roof waterproofing membrane system (Nuraply 3PM) that has strong adhesive nature, maximum durability and long-lasting finish. It is a bituminous waterproofing membrane that is installed and used in a two-layer membrane system. Having so many desirable properties, the membrane is used for waterproofing flat roofs of commercial buildings.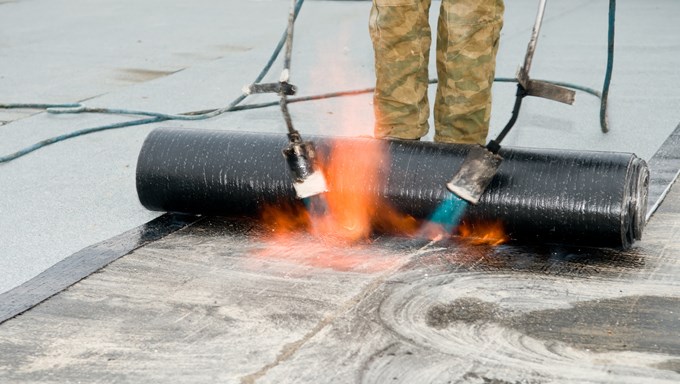 Benefits of Nuralite Torch on Membrane
The Naturalite Torch-on membrane or Nuraply 3PM offers multiple benefits.
The membrane has a CodeMark certificate that ensures the building councils will accept it.
The roofing system uses a granular slate for finishing that gives roofs a natural look.
Nuraply 3PM comes with a 20-year warranty, so no hassle of repairing roofs now and then.
It is highly flexible and offers low maintenance.
Viking Roofspec
Viking Roofspec is one of the leading companies offering high-quality torch on membrane systems for waterproofing. The brand manufactures products that can withstand the diverse topography of New Zealand. All the membrane systems from the brand are UV resistant, BRANZ appraised, and have over 20 years of warranty. Some of the torch-on bitumen membranes from the brand are:
Gemini of APP: Made from 'plasticised' bitumen, the Gemini APP has a high melting point and offers the highest puncture resistance, making it ideal for roofs in New Zealand's Climate Zones 1 and 2. The membrane has -10°C up to +140°C flexibility range.
Lybra of SBS: Particularly found in New Zealand's Climate Zone 3, the Lybra SBS membrane is made of rubberised bitumen with a cold flexibility range of -15°C to +120°C.
Phoenix Super of APAO: A hybrid membrane between the APP and SBB, the Phoenix Super is an APAO membrane that is perfect for New Zealand's diverse topography. The membrane has a cold flexibility range in between -35°C to +140°C, the best in the market.
EQUUS
Founding member of the Waterproofing Member Association, EQUUS helps contractors, builders achieve top-quality waterproofing with its excellent products. The De Boer DuO HT 4 Slates/F C180 FC (Firecare) torch-on bituminous membrane has everything you need to capsheet your multi-layer waterproofing system.
Ardex
Ardex is one of the premier companies in NZ, offering industry-standard products that are high in quality and low in price. The brand supplies top-notch flooring, tile installation and waterproofing systems that keep your building functional for years without any major maintenance. Some of its waterproofing membrane base sheets are:
ARDEX WPM 116: The Ardex WPM 116 is an APP bitumen vented base sheet that offers better elongation and flexibility. The presence of high-grade viscoelastic polymers in the sheet makes it ideal for waterproofing surfaces having potential moisture issues in the substrate.
ARDEX WPM 150: Branz appraised this reinforced APP bitumen membrane is used as a base or mid-layer system in multi-layer membrane application. It can be applied horizontally or vertically as per the requirements of the job.
ARDEX WPM 185: It is a dual-layer modified bitumen membrane with good cold flexibility, high puncture resistance and excellent elongation. Its quality properties make it an ideal final applicator in multi-layer waterproof applications.
Jaydex
Jaydex manufactured high-quality, cost-effective waterproofing membranes that can be used in various applications, and the Jaydex Shelterbit (Polibit Mineral) is one of them. The membrane has thermodynamic properties, is UV resistant and is ideal for general roofing.
Waterproofing Systems
Waterproofing Systems is also a popular name in NZ for supplying industry-grade products that meet all the regulations. Its bituFLAME Torch-On membrane is a quality product featuring excellent adhesion, better resistance to UV rays and great flexibility. The membrane is ideal for use in low slope roofs, gutters, parapets and decks.